For some time now I have been thinking of changing my monitor, or rather to get an even better monitor - I will continue to use the old one.
Why monitor 4K?
I say it would be good if all buy a monitor even be 4K as 4K whole movie could be useful in editing. Unfortunately in recent years to monitor prices stood about above, and the quality of the panels was not to satisfy my standards.
In addition to watching and editing in 4K, there is also the resolution we are used to on phones. Now when you look at a Full HD monitor, it looks like it's from the stone age next to these phones with incredible pixel density. Some phones even have a 4K display, and the monitors…
Carefully the refresh rate?
The first monitors were originally released 4K 30Hz panels, ie refreshed 30 times per second. Normally the minimum is fluency 60Hz to experience not only in games but also on the desktop. Some models have panels 60Hz but did not support HDMI or Display Port 2.0 1.2, which are mandatory standards for signal transmission cables to 60Hz to monitor.
How does it monitor LG 27UD58-B?
In a word, it is superb; I can say that I surpassed initial expectations. I was ready to return it if it was something that did not satisfy me, but fortunately monitor is really superb. Colors are perfect, sufficient brightness (lumens 250), good strong contrast, easy menu navigation joystick.
What's to complain about?
Now of course, if you want to bond with something, you will always find it. Some might want a finer frame (light bleed risk), maybe an adjustable stand, maybe a different color, maybe some USB ports, etc, etc. It was as if you always wanted something else, but with this money, LG gave us quality without fuss. Do you want more "fashion", make more money and it's solved, it's the 27UD68 model, which offers you everything you could want: adjustable stand, thin frame, etc.
UPDATE gamers with mouse lag:
If you feel an abnormality in the mouse (like lag), disable option Response Time the monitor menu Menu / Picture / Game Adjust / Response Time = Off. Normally option comes enabled by default value "Middle" and makes the mouse during FPS games and we become slightly elastic nature. This option should be turned off if you want to move better in fast games.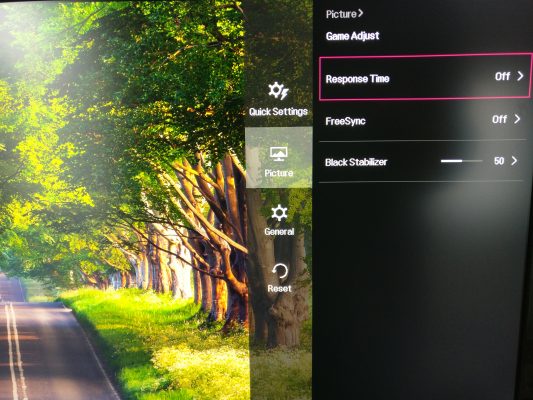 UPDATE 26.03.17
The monitor is calibrated at the factory. In the box was a calibration report, but I do not I bother to look on paper. You know how men are, they do not read manuals.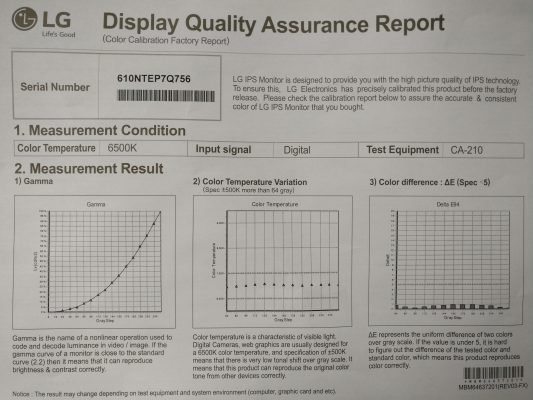 Where to buy?
24 inch - LG 24 ″ IPS LED Monitor, Ultra HD 4K, FreeSync, HDMI, Display Port, 24UD58-B
27 inch - LG 27 ″ IPS LED Gaming Monitor, Wide, UHD 4K, 2xHDMI, DisplayPort, FreeSync, 27UD58
Specifications LG 27UD58-B
Monitor model - LG 27UD58-B
Screen size - 27
Panel type - IPS
NTSC Beach 72% = 100% sRGB
Color depth - 10bit (8bit + A-FRC)
Response time - 5ms GTG
Refresh rate - 60Hz
Skin 16: 9
Resolution - 3840 × 2160
250 brightness-cd / m2
Contrast - Mega
Visibility angle - 178/178
Anti-reflection treatment - Anti-glare, 3H
HDMI - x2 (ver 2.0)
Display Port - (x1, ver 1.2)
Headphone audio output - Yes
Power-100Vac 240, 50 / 60Hz
Source - internal
Consumption - 29.5W (EPA 7.0)
HDCP Yes
Reader Mode Yes
Flicker Safe YDA
Six Axis Joystick - Yes
Factory calibrated - Yes
SUPER + Resolution - Yes
Black Equalizer - Yes
DAS Mode - Yes
FreeSync - Yes
Monitor LG 27UD58-B - 4K, IPS, 10 bit, 100% sRGB, Free Sync, 5 ms, 60Hz