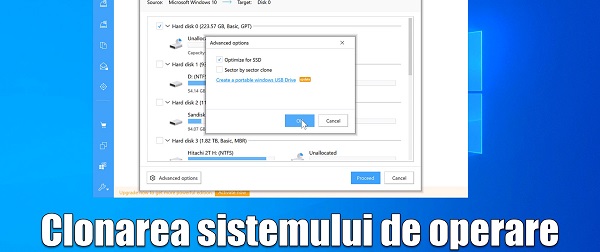 Not everyone can or has a resettlement
Generally, when you change your system disk to a more powerful and more powerful one, it's a good idea to reinstall your system. Move Windows to a new SSD
However, not everyone is keen to reinstall all programs, lose settings, and so on.
People have become accustomed to the operating system set in a certain way and do not want to get out of the comfort zone, and rightly in these times when time is a luxury.
The solution is cloning the operating system and moving it to the new disk
EaseUS Todo Backup Free does this and makes it fast and free of charge.
This program is great because it only provides us with the basic options, so as not to mess up with unnecessary settings.
Until you start the program and go to "Menu / System Clone" where you choose the disk you want to transfer the operating system and ready.
CAREFUL:
The new drive must be unallocated / unformatted.
What it means to clone a disk or move Windows to a new SSD
Virtually all the contents of the old disk are copied to the new disk, and the latter is partitioned in a very clever way.
It does not matter if you clone an 1TB disk on a 512GB, as long as Windows falls into the 512GB.
Similar tutorials:
Move Windows to a new SSD or clone the operating system - video tutorial