How to block the misuse of BITCOIN on your PC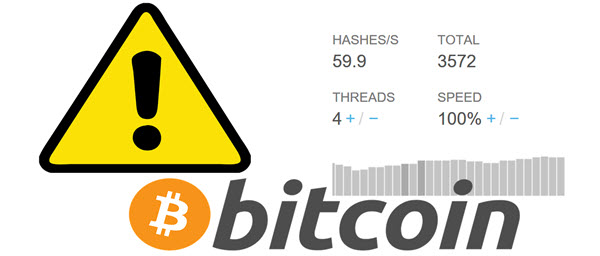 What is the BITCOIN abusive MINAREA?
Lately, due to the increasing price of BITCOIN, hackers are looking for more and more interesting methods of mining BITCOIN.
The latter method consists in using the power of processing multiple computers, using web software or scripts, which transform the victims' computers into zombie computers.
The bad part is that the victim receives nothing in return, and moreover, it remains with the used hardware and the current consumed.
What is BITCOIN?
To this question I answered a few years ago, when I explained how BITCOIN works, and how to go with the processor and also how to drill bitcoin with dedicated hardware.
I repeat, for those who did not understand:
BITCOIN is a currency coin or a virtual currency generated and managed in a BLOCKCHAIN, a set of calculations that keeps records of BITCOINs and transactions.
Abusing BITCOIN on PC.
It can happen to any computer user or phone, to visit a web page that appears to be no longer loaded. Those pages can be injected with a script that the user's browser executes, after which the browser starts to ask for the script, that is, to use the entire processing power to keep BITCOIN down.
Often users do not even know what's going on, because many scripts like this work only when the PC is idle.
How do we keep away from the malware that bits BITCOIN?
At your fingertips we have two solutions:
1. Installing plugins in your browser. Unfortunately, plug-ins can not protect us outside the browser and are not that safe.
2. Using a security program with "system wide" protection. I recommend Malwarebytes Professional, which works very well.
Download Malwarebytes Profesional
Other tutorials about BITCOIN.
Bitcoin, you earn money with a powerful computer - video tutorial
Bitcoin mining from video card for money on the internet - video tutorial
The best hardware for "printing" Bitcoin money
Bitcoin machine made / money from Butterfly Labs
How to make Bitcoin Miner and application cgminer with BitForce
How to block abusive BITCOIN mining on PC - video tutorial