Hello friends, today's tutorial we'll see how we can download all data and information from your Facebook account - Download everything on Facebook - photos, albums, videos and messages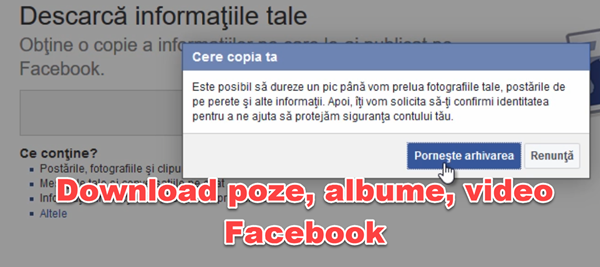 Why download all data from your Facebook account?
One of the main reasons why we'd like to download photos and videos from your Facebook account is that you never know how you lose access to your account. Whether your phone is stolen or lost with the log on account or someone breaks into your Facebook account password, or Facebook is the only place where you keep your photos.
We can download data from your Facebook account?
We can download from your Facebook account absolutely all data. Photos, Address, videos, Messenger messages, contacts, locations, addresses contracts, comments, pinching, the ads you click.
Unfortunately we are not able to select what we want to download. You will need to download all or nothing.
How long generation archive for downloading data?
Depending on the age of the account and the data in your account, generating archive can last from several minutes to several hours or even days.
Related:
How to download an entire album with photos on Facebook
Tutorial Video - Download everything on Facebook - photos, albums, videos and messages