How can you download your photos and videos from Instagram?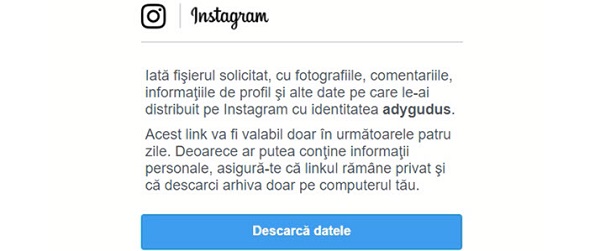 How can you download your photos and videos from Instagram?
In the tutorial today, we'll see how we can download all the photos posted on Instagram, videos, profile photos, and all the content I posted on Instagram Direct.
Why would anyone want to download the photos from Instagram, you'll ask me.

Reasons may be enough! You probably want to quit Instagram or want to upload some photos on other services or social networks, maybe you want to delete your account or some photos that you have some unpleasant comments and want to repost because you probably have a bigger audience now, more pursuers. Maybe you want to edit some aspects of an older photo and then repost or want to delete your tracks from the internet and your Instagram account was the last place you did not know how to do a backup with all your activity on which you had on Instagram.
More online services allow us to download our data.

More recently, all online services are beginning to adopt the function that allows the user to download all the data used in the activity they had on that online service. These measures to provide the user with this download function are required and foreseen by the European Union for all companies that operate or provide their services in countries within the European Union.
Whatever the reason anyone wants to download their photos from Instagram, it's good to know that we can do this, we have the right to do this, and we know how to do it.
Similar tutorials:
Video tutorial - How to download your photos and videos from Instagram