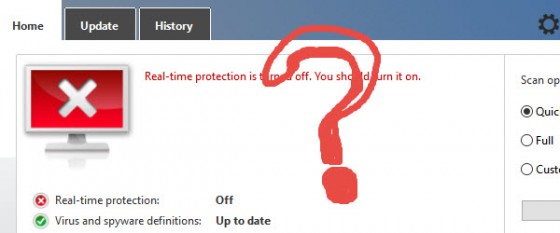 Disable Update and Windows Defender 10
Hi friends, today's tutorial we will talk about Windows Update and Windows Defender, two important security modules of the operating system Microsoft Windows 10 which keeps users safe Windows operating system. Although these two Modelu security exists in all versions of Windows, Windows 10 control options of these modules are fewer than ever.
Disable Update and Windows Defender 10
Perhaps Microsoft has decided that Windows Update and Windows Defender must always stand enabled / started as utilizatrul remain safe. Through Windows Update to receive fixes the problems, patches for security holes in the system, updates critical system and by Windows Defender, users are protected from software third (installed manually by the user from external sources), malware , threats and potentially harmful software came via the browser.
Although apparently there is no possibility or option clear to disable these two security modules, there are still legitimate ways by which we can turn off without software third or magic tricks but simply appealing to other control modules available in Windows 10 .
How do we disable Windows Defender Update and 10?
To disable Windows Update in Windows 10 can call the Services list that we have all services available on the Windows operating system, their current state and how these services start. To get to Services, press Windows + R keys simultaneously to launch window "Run" and in the "Open" will write "services.msc" (without quotes) then press Enter or we click "OK". In the "Services" Search Jobs "Windows Update", give double-click it, click "Stop" to stop the process the service and the "Startup type:" choose "Disabled". Dam click on "Apply" and then "OK"
How to disable Windows Defender on Windows 10?
To disable Windows Defender Update and 10 another section we will use existing control in Windows 10. Specifically the "Local Group Policy Editor" for active services have optuni Windows Defender section Control Services previously used to disable Windows Update. To launch the "Local Group Policy Editor" Windows Simultaneously press (the key with the Windows logo on your keyboard) + R and Cass "Open" write "gpedit.msc" and press "Enter" or click "OK". In the "Policia Local Group Editor" in the "Computer Configuration" and expanded "Administrative Templates" then "Windows Components" then left click on "Windows Defender" and the right side of the window we double click on "Turn off Windows Defender". In the window that appears, tick the option "Enabled" then left click "Apply" button in the left window and then click "OK"
In the end, I can only hope that this video tutorial will was useful and that Microsoft, through an update anything, will bring back options normal activation and deactivation for Windows Update and Windows Defender in Windows 10 as they were in Windows 7. I do not know why I think that Microsoft will receive much feedback from users angry or upset that they were taking control of these security modules. Or maybe it is wrong?!?!?
Video Tutorial - Disable Update and Windows Defender 10