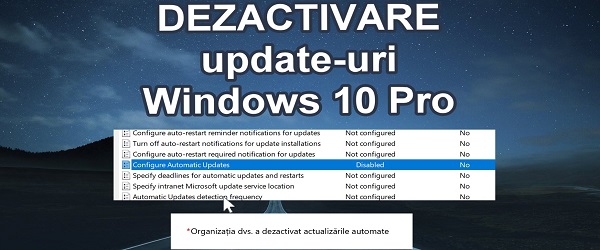 What is the Stop Windows Update Windows 10 pro tutorial?
In the Stop Windows Update tutorial, Windows 10 pro will show you how to stop Windows Update quickly and without additional programs installed.
Why let Windows Update run?
Normally it is good to make updates to any operating system. This increases the level of security by adding patches, fixing some bugs, or, a new update can bring new functionality.
Why would we want to stop Windows Update?
Sometimes Windows Update can make the operating system difficult, especially for older hardware systems, with little RAM, slow storage, or insufficient processing power.
There are cases where there is sufficient processing power and fast storage, but the task is running, for example a competitive game.
In the case of games, you also need a fast network response time, which can be handled with the Windows update even when your world is dearer to the game.
There are also special cases for the desire to opt out of Windows Update.
In recent years Windows park it became a live experiment, and the guinea pigs are us.
From drivers that no longer work, to accidental deletion of data, are some of the many annoyances that users experience after making a new update.
It is unbelievable that in 2020, you can still be excited about any updates, more so than at Windows XP.
How do we stop Windows Update?
This method is only valid for Windows 10 Pro. If you also want a tutorial for Windows 10 Home, please write me in the comments.
In the search box in the start menu, type gpedit.msc
Right click on "Run as administrator"
Go to: Configuratie computer / Administrative templates / Windows components / Windows update (select) and double-right-click Configure Automatic Updates
Check here "Disabled"Then press Apply and OK
Similar tutorials - Stop Windows Update Windows 10 Pro:
Video Tutorial - Stop Windows Update Windows 10 Pro