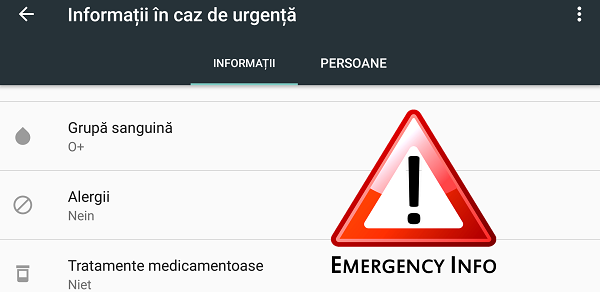 How can you save your Android phone life
When we lose sight of the street or we have a serious accident and the rescuers (Ambulance, SMURD) come to the scene, any information is important. That's precisely why Android 7 Nuggets can display some information on the lock screen that can be accessed even if those who find us do not have the password.
Emergency Information
This menu is found on Android phones (Nook +) in Settings / Users.
The menu is called Emergency Information and displays, even with the screen locked, the following fields:
1. Name
2. Address
3. Blood type
4. Allergies
5. Drug treatments
6. Organ donor
7. Medical Notes
These fields are extremely important for those who provide health care at the scene of the accident.
Number that can be called with the locked phone
In addition to name, address, and medical information, we can choose one or more trusted numbers that can be dialed from the lock screen without the phone password being required.
How can the person who found your lost phone contact you?
We often reinforce the security of the phone and forget some of the essential things.
For example: If you lose your phone, where does it find you, if your phone is blocked with your password?
The new "emergency info" menu provides the ability to dial reliable numbers even if the phone is locked; Thus, an honest person can return the lost phone when he finds it.
What if I do not have Android 7 Nook?
In cases of emergency (Crunch)
How You Can Save Your Life Android Video Tutorial