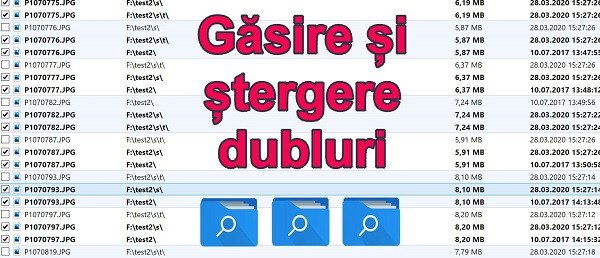 What is the ideal application for deleting duplicate files in the video tutorial?
If you look through any PC, you will undoubtedly find duplicate files, which is why in this tutorial I present the ideal application for deleting files.
Where do duplicate files appear
While using your PC, or any other type of computer, duplicate files appear, because, without realizing it, and because we are forgotten, we copy the same files several times.
Why look for and delete duplicate files?
There may be many reasons, but I will stop for a few more burning reasons:
Too many duplicate files consume storage space for nothing.
Doubles are annoying when we want to see the pictures
Duplicate files make indexing difficult, which makes the operating system more difficult.
There are many applications for removing duplicate files
In order not to confuse you with things like "10 applications for removing duplicates", I tried several applications and stopped at one, Auslogics Duplicate File Finder, so as not to waste time.
Auslogics Duplicate File Finder - The ideal application for deleting files
This application is very well made. We do not find options in addition or minus. Everything is exactly where you need it. In addition, Auslogisc Duplicate File Finder gives us a backup option for deleted files and what's more, the application is free.
What do I do if I delete useful files?
It is unlikely that you will delete files that are not duplicates. However, suppose we always exist and the chance to delete what is not needed.
To avoid this, use the tips in the tutorial and choose to backup in the end.
Download Auslogics Duplicate File Finder
Download from the official site
Tutorials on cleaning storage, clearing space, etc:
Video tutorial - The ideal application for deleting files