As you enter the account to someone else and read WhatsApp conversations?
Hello friends, today's tutorial we'll see how we read and how we can spy on conversations WhatsApp children, wife, friends, people close.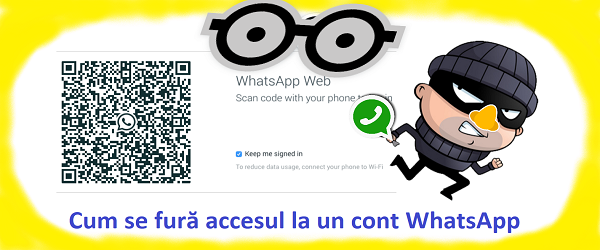 How does the account of someone else's WhatsApp
We may not necessarily want to spy on someone only to monitor our children or grandchildren.
Tutorial will show you today is not a hack.
Do we use special software and will not need root.
The method presented in this tutorial simply exploiting a feature that WhatsApp has; It's about WhatsApp Web.
Why do we need to go on someone else's WhatsApp account
All we need is to install our phone (the one on which we want to spy on the victim) an application called WhatWeb For Whatsapp and have access to the victim's phone (which we want to spy) for up 5 seconds.
When the method will not work Spy WhatsApp?
1 - if your victim has code or fingerprint pattern to lock your phone and can not access 5 for seconds, as I said above
2 - where the victim has installed application that blocks access to certain applications and can not access the WhatsApp victim, even if we have access to other applications or functions from your victim.
How do we protect access to the account by someone else WhatsApp
How can you protect someone so you can not spy on WhatsApp on your phone conversations?
Password or fingerprint phone
- Secure your phone, giving you a password, PIN or unlock pattern (or set the fingerprint sensor) and do not ever let the phone unlocked and unattended.
Pin only application WhatsApp
- if you are more comfortable and do not like to go through routine security and unlock your PIN, model release, password or fingerprintYou can use an application that selectively blocks access to applications you chose.
Others will be able to use your phone but not applications that you choose to secure your password or fingerprint
Tutorial on how to set the password for applications
A tutorial on how chicken password applications or files can be found here Paroleaza phone and tablet applications on the App Lock

Video Tutorial - How does the account to someone else and read WhatsApp conversations