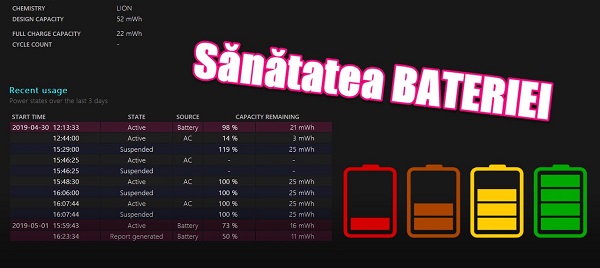 How to check battery health?
The role of a laptop is to be a portable computer, and when we say portable we automatically think about the battery. so it is extremely important to know how to check battery health.
Technology has evolved over the last few years, but it seems like the batteries have gone a bit slower; Despite the higher capacities of LIPO batteries, they have remained the same number of loading cycles (Charge Cycle Count).
Because of this, mobile phone batteries tend to no longer keep the amount of energy that they kept at the beginning.
Some say it's good to remove the battery from your laptop!
If you think about it, it would be a good idea to keep the battery in the charged drawer when you use your laptop at home and to plug the battery only when you leave and need mobility.
It's logical, you keep the float charge battery, which tends to keep the battery at a certain level.
Manufacturers say they do not need to disconnect the battery, as these batteries have a smart charging management that does not overcharge the battery.
Still, let's say it's a good idea to remove the battery, unfortunately lately more and more laptops come with an internal battery like a phone, a battery that can not be taken off so easily.
How do we find out how healthy the laptop battery is?
We've found the simplest way to diagnose the battery on your laptop or Windows tablet.
You do not have to install third-party software.
How to check battery health?
Using Powershell, command:
powercfg / batteryreport
In C: \ Users \ "current user" you will find the report in html format, which you open with any web browser
Related video tutorials:
How to check the battery health on your laptop - video tutorial