Chuckie Egg for Windows without emulator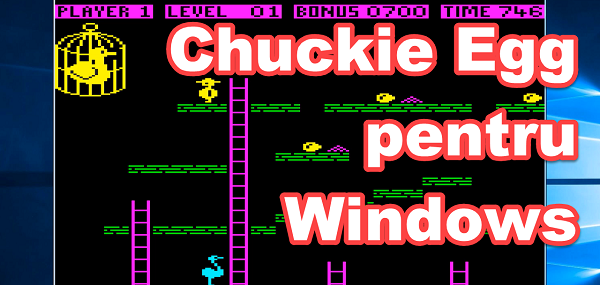 Chuckie Egg is one of my favorite childhood games. It normally runs on a compatible platform, console or emulator; But this version is for Windows and can run directly without emulator. That's exactly why I decided to do this tutorial.
Gameplay vs. Graphics

Although Chuckie Egg has almost the oldest graphics in the world, it still has a soul. that means you catch yourself from the first levels and you can not leave it.
In multiplayer mode, everything gets even more thrilling, because each player will wait their turn after the gamer who's on the buttons, wins or loses a life.
The pleasure of the game does not necessarily mean fps, graphics, effects and polygons.
For children it is excellent

For kids there are lots of games on the tablet or online, but this game is small, running on the PC, where the baby is comfortable in the chair, and in addition has no advertising.
Both the installer and the game have no ads or adware.

Almost incredible nowadays that you can find an application without ads, without trial, or without stealing all your data. Chuckie Egg does not need any permission or internet connection. I almost forgot to play old school.
A single chick, which resolves immediately.

On Windows 10 the basic game runs, but does not save the score and commands. We can easily repair it by changing the compatibility mode when running. In the shortcut properties, for compatibility, choose Windows XP SP2 mode.
If you are interested in classic games…

I've done a tutorial some time ago that I showed you how can you make a retro games console. All you need is a Raspberry Pi and a controller. The cost is rather small and you get a game console with games that I'm sure you will attach, even if you are not as good as today.
Gaming related tutorials:
Chuckie Egg for Windows without emulator - video tutorial
……


……