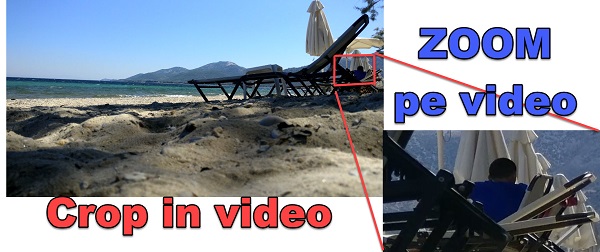 How can you zoom, ie crop on a video area?
At one point you probably needed to zoom in on a certain area of ​​a video that you made or simply took it from the net or from a surveillance camera.
It is not complicated to crop on a video, but we must know from the beginning that we can not expect the wonders.
Phases like "intensify the image" are only possible in movies.
We have to limit our expectations, which the police films or novels have not raised.
It is impossible to "intensify" an image from a movie, if the filming was done poorly (out of focus) or at poor resolution.
If the shooting is done at a good resolution, in focus, without background noise, that is, with good light, it is possible to greatly increase a portion of the image and look good.
How can we crop or enlarge a video area?
For this tutorial I have chosen two applications.
HandBrake is an opensource application, with a solid reputation, has no limitations.
WinX HD Video Converter is a little easier to use but is not opensource, and only free with limitation to max 5 minutes per file.
How do applications work and how do you enlarge a video area?
The easiest to use is WinX HD Video Converter, with which you don't have to be too skilled. You have a frame that you place over the video and you gather in the area you want to enlarge and ready.
HandBrake is a bit more complicated, but not very difficult. Instead of the crop box you have some boxes where you have to enter the values ​​you want to subtract, that is, how many pixels you want to subtract from left, right, up or down.
Download
Related tutorials
Video tutorial - How to enlarge an area in the video, ie how to crop