Transforming Speech into Computer Text - Dictation for PC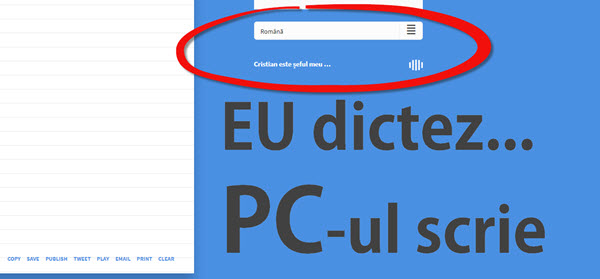 TTS vs. STT
If last time I introduced you Text to Speech, today we have a Speech to Text service, that is, the transformation of speech into text.
Translating speech into text is extremely important in many applications, but especially in the user interface and assistant type.
Transforming speech into text

I have even presented you a few this service like Speech to Text, but in the meantime it has improved a lot and I thought it deserves our attention again.
Dictation.io
It's a free service that you can use in your Google Chrome browser. Dictation is based on Google Voice Recognition, which is why it works so well.
How Good Does Speech Work with Dictation Text?
Last time the dictation service was quite spartan (now about 5 years), and did not offer anyone who knows what options. Now we have support for punctuation, voice commands for various actions and even smileys.
What interesting options does Dictation have for us?
1. Support for Romanian
2. Support for diacritical recognition from dictation
3. Voice commands for new paragraph, dictation start-stop, etc.
4. Support for punctuation in English, but goes to dictation in Romanian
5. Multiple export options: clipboard, save on pc, share online, print, etc
My conclusions:
When converting text into speech with Dictation.io, it works well if you pronounce correctly and press the words. If you adopt a bored tone, then the service does not recognize the words perfectly, but it will still recognize them for the most part. Another strange thing is that you have to wait until the sentence is written before you issue the command for the punctuation marks.
I do not know how it will work with regional accents (Transylvanian, Moldovan, etc.), I expect your views.
With this money… .. (free)
Related tutorials:
PC voice recognition accented with Dictanote
Google Keep Android app that allows us to dictate notes
Chinese instant translation of text, photos or documents
Google Docs OCR function of helping us turn the scanned text into editable documents
Steganography can hide a file or as a picture or text document
Dictation.io (to support the Romanian language)
Transforming speech into text on the computer - dictation for PC - video tutorial