PowerLAN adapters are devices that we inject the yarn net the whole house power grid, a distance of up 300 meters.
600 PowerLAN Mbps TP-LINK, net outlets throughout the home
Our kit is a TP-Link TL-PA6010, which theoretically can reach up to 600 Mbps.
PowerLAN adapters are very easy to use. We have two parts, one is put in socket near your router to which and connecting cable, and that the second piece goes into an area of ​​the house where not enough net site, connecting to course outlet and then the laptop cable.
What uses PowerLan
A kit PowerLAN, this TP-LINK can be used in many applications:
1. Net for Smart TVWhere we do not have cable net.
2. Expanding the wireless network adapters and safe access point sites.
3. Expanding the network in newly built areas
4. Connecting to the net garage, annexes, ip cameras, Intercoms, etc.
How good is PowerLAN site?
I put a bunch of tests, and I concluded that you can rely on PowerLAN. Speed ​​largely exceeds 100 Mbps and can reach up to almost 300 Mbps when PowerLAN adapters are walking distance from each other.
Merge PowerLAN the three phase?
Yes, go, but provided that common to be neutral on all phases. From here I realized that netul, actually goes through cable than zero, being used only for food Phase.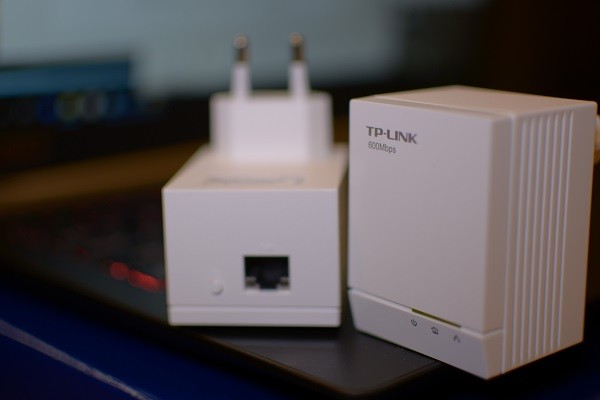 Results of the tests PowerLAN 600 Mbps TP-LINK:
1. Lobby at any 7 meters from the router, Download and Upload 93 89 (Mbps)
2. 6 Bureau on any router meters, Download and Upload 97 87 (Mbps)
3. Living in 3 meters from the router, Download and Upload 140 137 (Mbps)
4. Kitchen, 3 meters from the router, Download and Upload 214 244 (Mbps)
5. Adapters in the same socket double, Download and Upload 284 287 (Mbps)
6. Hallway with a strip adapter, Download and Upload 91 70 (Mbps)
7. Lobby Wireless AC Router 7 meters, Download and Upload 355 374 (Mbps WiFi)
8. Terrace adapter 9 meters, Download and Upload 124 134 (Mbps)
AC 9 9 wireless Terrace meters, Download and Upload 14 24 (Mbps WiFi)
I did a test with speedtest + gigabit internet connectionBecause I wanted to see real speed internet. The tests were made with the server RDS Bucharest.
How did tests PowerLan?
During the tests I had no problem. The adapters were connected quickly and functioned stable ping between 4ms and 5ms.
What's the best of wireless, and cable PowerLAN?
Ladder stands like this:
1. UTP (The King)
2. PowerLAN (speed OK)
3. Wireless (comfortable but…)
Adapters PowerLAN prices
Tp-link PowerLAN 600 mbps, the net outlets throughout the house