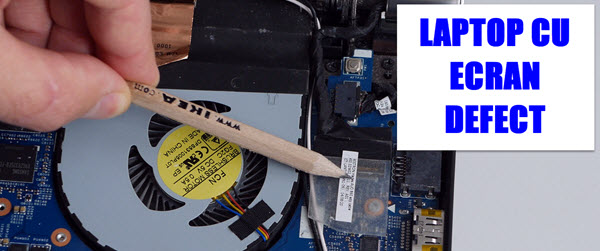 LAPTOP WITH STRICT SCREEN (black) - problem solving
What we do when the screen of the laptop crashes and we can no longer use it. You probably think you're just connecting your laptop to an external monitor, right? The problem is that it does not work, or at best we can only use the repository system, without being able to reinstall or enter the bios.
Problem Description!

If a laptop screen is broken, most of the time we can not use an external monitor. And even if we can use an external monitor, we can not go into bios and we can not make installation of systems of works.
It's weird, it's supposed to go.
There are also happy cases.

On some laptops you can automatically switch to an external monitor, if you close the laptop cover, if you tap a certain key when it starts. Unfortunately, it looks like it only works on older laptops, where connecting to an external monitor was done through a VGA (analogue) connection.
Why can not I use the external monitor on my laptop?

The external monitor must be configured. the problem is that you can't use the operating system without seeing the image on the monitor. It's kind of a "egg and chicken" dilemma.
The laptop screen is the main monitor, even if it's broken.

Usually when a screen breaks, the backlight is broken. For the motherboard, the screen still works, but unfortunately we do not see images.
Because the screen is detected, even broken, the laptop has no reason to treat an external monitor as the main screen.
We must use "force" to use an external monitor on the laptop.

I put the force in quotation marks, because it's not really "force" but rather a more unusual method of solving a computer problem. You can call it HACK if you want.
Disconnecting the screen from your laptop will solve the problem.

If you have a broken laptop screen and is out of warranty, you have nothing to lose. Easily open your laptop (take care of the screws) and disconnect the screen jack on the motherboard. I have shown you in the video how to do it, but you know how it is, every laptop is different. Anyway, with a little attention, it's not hard to handle it.
After disconnecting the internal screen (broken), the laptop will go first on the external monitor connected via HDMI, DP, VGA
WARNING!
IF THE LAPTOP IS A GUARANTEE, MELT TO SERVICE.
TUTORIALS ASEMANATOARE
Connect PC to TV, wireless, Chromecast
Wi-Fi Display from phone to phone - video and audio
LG Display, IPS, 4K, 60Hz, 100% sRGB, good price
Windows 10 multitasking tutorial - Windows 10 efficiency and speed
Apps for AMOLED screen off, battery saving, round corners
LAPTOP WITH BROKEN SCREEN (black) - problem solving - video tutorial