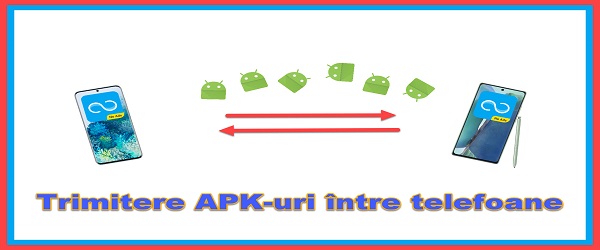 What is the tutorial How to send APK apps from your phone?
In the video tutorial How to send APK applications from your phone, I will show you how to send APK applications from one phone to another. This way you can send to a friend, applications that he does not have.
Why send apps installed in APK format to another phone?
Recently, there was an "extortion of a release" between Apple and Google app stores on the one hand and Epic Games on the other.
In short, Epic Games implemented in the game Fortnite, its own payment system, thus skipping the payment systems from Google and Apple.
Normally, the older ones got upset and took Fortnite out of the App Store and Play Store respectively.
Fortnite is still in the Galaxy Store.
In the well-known outlaw style, Galaxy Store chose to "hide in the mountains" the rebel from Fortnite.
Any Samsung phone owner can still install Fortnite without any problems and through the tutorial method pass the APK to their comrades.
This is not just about Fortnite!
Many applications were removed from the Play Store and App Store, either because they violated certain terms or because the terms changed overnight and the developers were caught on the wrong foot.
Many of the apps removed from the play store can be found in the Galaxy Store.
How to send APK applications from phone to phone.
Using the ShareMe application, which I told you about, in addition to sending pictures, videos, files, we can also send the APKs installed in our phone. * see the video tutorial
Download the ShareMe app (until it disappears from the Play Store)
Related Tutorials:
How to send APK applications from your phone - video tutorial