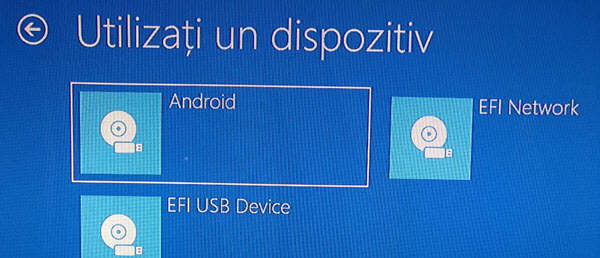 Today I thought I would show you how to do an Android installation in Dual Boot with Windows 10 - Install Android and Windows on the same PC in Dual Boot.
Windows and Android on the same Dual Boot PC

Even if we install Android on the same PC, we'll use another disk, just to edit the tangle. We keep everything simple and less dangerous.
Backup first of all!

Normally what I showed in the tutorial is not dangerous, but if you make a wrong setting, you are likely to lose your data. That's why it's good to back up your important data for Windows as well.
Why did I need Dual Boot Android with Windows?

That's a question I got from Youtube. If you do not understand why you are doing something, then you do not have to do it.
In other words, Android is a very easy system for an older PC and on top it comes with a lot of applications in the Play Store that can make you an older PC into a computer that you love to work with.
Why we need to install the Dual Boot with Windows.

1. Two drives (SSD or HDD) on which operating systems will be installed. In my case, Windows 10 is already installed.
2. Partitioning program CyberLink Wizard
3. EasyUEFI Professional (free trial goes for a UEFI entry)
4. Installing applications and Android on PC - with the Play Store
Install Android and Windows on the same PC in Dual Boot.

1. Formats the disk to install Android in FAT32 with Minitool Partition Wizard (Windows does not leave you).
2. Install Android on the newly formatted disk and take a picture of 4090 MB during installation
3. After installation, it enters Windows and creates an UEFI entry with EasyUEFI
4. Enter Android through one of the two methods described in the tutorial and configure your Android
How do I get into Android?

As I told you in the tutorial, you have two ways to get into Android.
1. When booting your PC through BOOT MENU
2. From Windows through the advanced boot menu: All Settings / Update and Security / Recovery / Complex Boot

Similar Tutorials:
Second hard drive on the laptop instead of the optical drive
ANDROID TRUCKS AND SHOES THAT YOU DO NOT KNOW
Settings ANDROID BATTERY ECONOMY - all underneath
MultiROM multiple operating systems on the same phone
Unlock bootloader Android phone
Install Android and Windows on the same PC in Dual Boot - video tutorial