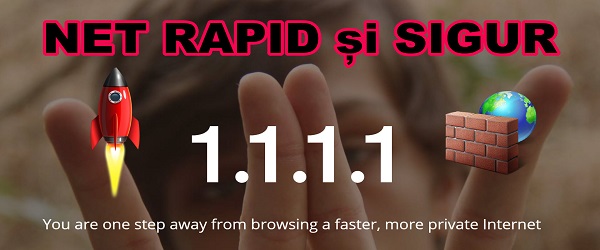 What is the net video tutorial faster about changing DNS?
In the faster net tutorial by changing DNS, I will show you how, by changing the DNS you can get a faster net, you can block malware and you can block adult content.
How can we get net faster?
Net faster by changing DNS
By using a faster DNS server than the one provided by your internet service provider, you can experience better page load speeds.
The bandwidth itself will not be higher, but the loading time of pages and resources (images, scripts, ads) will be much faster.
Basically the response time will improve and overall you will wait less to load the web pages.
Cloudflare DNS
Net faster by changing DNS
Cloudflare is a company that provides customers with CDN (content delivery network) services.
CDNs are used by most sites in the world to serve visitors as quickly as possible. That is, sites, for example, upload images, scripts, and other resources, automatically to these CDNs, which are distributed all over the world.
A customer in Brazil, when visiting the videotutorial.ro site, will visit a kind of copy of our site that is on a Cloudflare server in Brazil or nearby.
Cloudflare services are used by most sites in the world and that is why Cloudflare knows best where each site is, and can serve the visitor in the fastest way.
Cloudflare DNS for the general public
If they still had fairly complex CDN services for sites and were the first to know about the location of the sites, Cloudflare also launched DNS services for the general public.
Each user, at home, without paying anything, can use one of the three sets of DNS addresses, which helps to speed up, block malware and block adult content.
Cloudflare DNS IP Address Sets:
For a faster net:
1.1.1.1
1.0.0.1
To block malware:
1.1.1.2
1.0.0.2
To block adult content:
1.1.1.3
1.0.0.3
How do we block malware and adult content on Android or iOS phones or tablets when we don't have access to the router?
Block adult content and malware on Android
1 variant
From Android 9, we have in connections a setting called private DNS. Here we enter the address:
family-filter-dns.cleanbrowsing.org
* the lock will be made on any kind of connection, wi-fi or mobile
2 variant
If you have Android 7 or 8, enter the following DNS addresses in your current Wi-Fi connection settings:
1.1.1.3
1.0.0.3
* Unfortunately blocking malware and adults will only be done on wi-fi, on the current network, with other wi-fi networks and not on mobile data
Block adult content and malware on iOS
For the current wi-fi connection, enter the following DNS manually:
1.1.1.3
1.0.0.3
* Unfortunately blocking malware and adults will only be done on wi-fi, on the current network, with other wi-fi networks and not on mobile data
Malware blocking tutorials and adult content:
Video tutorial - Net faster by changing DNS