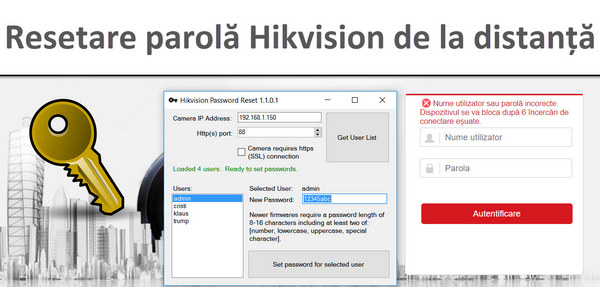 Reset Hikvision IP Camera Password
from a distance (dangerous). the last tool presented in the tutorial is even evil. EVEN IF YOU WILL RESET OR NOT PASSING TO THE ROOM, IT WILL BE WATCH TO TUTORIAL.
Surveillance cameras are those devices that you install once, after which you forget about them. But sometimes we need to go to them and then BUM, I forgot the password. If we used the password every day or if we had one good password manager, I had it, but
IP Camera Detection Software.
Regardless of what surveillance camera password reset method you choose, you need a Hikvision tool that: finds the camera in the network, gives you details about the camera, and helps you trigger the password reset process.
Options to reset the Hikvision IP camera password remotely.
1. Hardware reset option. Here we deal with a physical reset by pressing the button that is a camera. But the room is perched on a wall or a pillar, and it's pretty hard to get to it. Apart from the physical access problems, we also have room settings that we hardly coped with. There are storage settings (NVR, NAS), motion detection settings, network settings, image settings, user account settings, etc.
From my point of view, the hardware reset option is the worst, because instead of getting rid of a problem, it creates other troubles.
2. The official reset option. This method assumes that you will need to get in touch with Hikvision Support at [[email protected]]. On the above PDF you have all the details.
3. Option to reset the remote Hikvision IP camera password that requires a KEY. Here you have to put the camera series and the last start date, information you find using SADPTool (download above). Enter the key in the password reset window (if this occurs).
Generate KEY form page
4. Method of resetting the surveillance camera password forcefully. Here we need nothing but the camera IP and port, which can be very easy with SADPTool or with an IP / port scanner.
This method uses some issues of surveillance cameras (vulnerabilities), which it exploits extremely abilly.
The danger of this tool comes from working on any Hikvision camera, whether it's in the local network or the internet.
Hikvision Password Reset Helper 1.1
CAREFUL.
If you want to have a secure surveillance system:
NU port forwarding, port triggering, DMZ or something like that
Nu connect the IP camera directly to the internet (put in the VPN router in front)
Use a good server router VPN if you want to access the camera remotely
Related tutorials:
Remote Hikvision IP Camera Remote Password - Video Tutorial