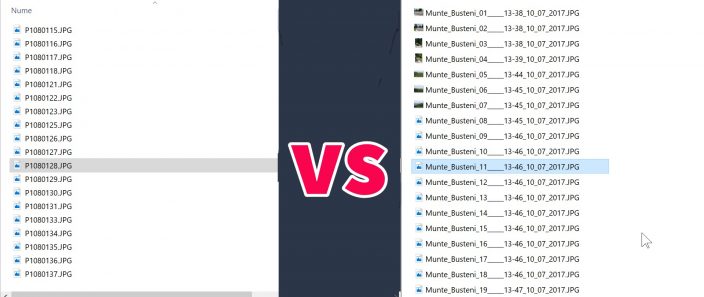 What is the video tutorial "Renaming many pictures or files at once"?
The video tutorial is about renaming many pictures or files at once. Specifically how to rename files from something incomprehensible to meaningful names; and this for multiple files at the same time.
Why rename pictures, video files or other files?
Surely you have noticed that when we take pictures with a camera; be it compact camera, dslr, mirrorless or even telephone, the generated files have a name like "P108493.jpg" or "DSG0985.jpg".
These are file names that make no sense; which does not indicate anything to us without seeing what the file contains.
This is precisely why it is a good idea to rename files; and in order not to lose time we will rename them all at once.
I have for you two methods of renaming multiple photos
Method 1 of renaming group photos:
Even in Windows Explorer we can rename several pictures at once. All we have to do is select all the files we want to rename, press F2 (or right click / rename).
Then we choose a name that tells us where the pictures are taken and in what period. For example "Munte_Busteni_Iulie_2017", and after I finished I press enter.
Later we will notice that all the files have been renamed; in addition each received a unique number (1), (2), (3), etc.
Method 2 for renaming pictures or group files:
Here we will use a free application that is very interesting; in the sense that it can extract different data from exif; data that we can display in the name we choose.
I found it extremely useful to choose a name that would describe the location; in addition to use the exact date and time when the picture was taken. Thus you can immediately find a picture taken in the morning on July 3, 2018; without looking at pictures, for example.
Group photo renaming application:
Similar tutorials:
Video tutorial - Rename many pictures or files at once