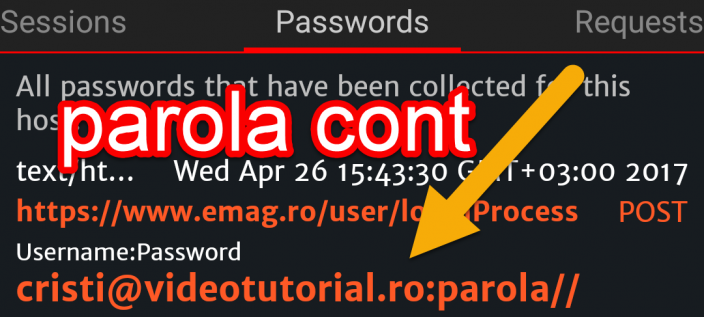 As you can see passwords, pictures and pages to others - affected online stores
Security!
IT security is a vague nowadays, when the average user is not different between web vulnerability and virus. We tried to inform December how it was possible, but unfortunately the message seems to have got the right place.
On the contrary, we see great online stores do not offer users a safe environment for accessing accounts, which contain a lot of sensitive data.
Why not protect us, we waited?
Sometimes for various reasons, most often comfort or economy, choosing simple, that we connect to free WiFi networks that are available in cafes or shopping malls.
some time ago I explained how dangerous free wifi network connection when I showed how to intercept traffic with WireShark.
Zant, a killer app, literally!
Now I present a more interesting application that can initiate an attack Man-In-The-Middle, right from an Android phone. With that no longer walk with laptop after him, the attacker can sneak anywhere quite discreet.
The application is called Zante and require ROOT to be used. If you do not have root, you do not know which means root or do not know how to make ROOTI invite you to watch our tutorials on this topic.
How does Zant?
Zante application has several tools in the collection, but the most interesting is Man-in-the-middleThat I used myself in the tutorial. Man-in-the-middle can intercept traffic to any device connected to the network, you can see the pictures displayed in the browser, and sometimes you can end up with people's passwords, if the sites where they do not offer SSL login strictly.
CONNECTION:
How to crack any password Wi-Fi, super fast using social engineering
What is DDoS attack and how to use - LIVE attacks
Connecting to a WiFi router without password
How to crack WPA wireless password, or WEP with BackTrack WPA2
Maximum security with Wi-Fi aka Radius server. WPA Enterprise
Popcorn Time for Android and iOS, new movies with subtitles
How can see the passwords of others?
Normally, if all sites that host sensitive information had a stricter HTTPS implementation, then we would not be able to see any passwords. Unfortunately, large sites have implemented a Flexible HTTPS, which allows redirection over HTTP, where data is transmitted in "plain text" without encryption.
Download the Zante

CAREFUL:
Zante application is made to test their own network. Use on public networks is illegal and can bring trouble. Use it carefully on your own network.
How to see the passwords, pictures and pages of others - Video tutorial