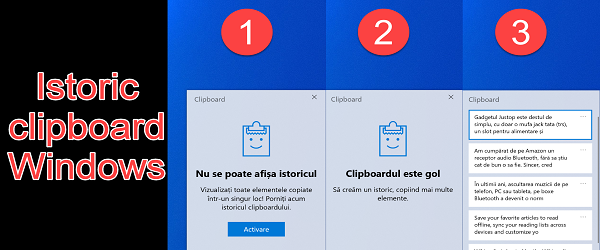 What is the Clipboard History Tutorial on Windows 10 about?
In this Clipboard History Tutorial on Windows 10 I will show you how to enable clipboard history on Windows 10, or how to copy several things to Windows in a row, but all in Clipboard.
What is the use of Clipboard History?
The most suitable environment for activating the clipboard history is the office environment, where you work with text and copy / paste.
Another environment where clipboard history can be of real use is in the school area, where students and teachers can make their work much easier.
Why is the clipboard history so good?
By activating the clipboard history, you can copy up to 25 things to the clipboard, html, images and text, but not more than 4MB each. Of course, if you want you can copy anything, no matter how big it is, but if it exceeds 4MB, it will not go into the clipboard history.
How do I enable Clipboard History on Windows 10?
Enable clipboard history:
Variant 1 - Settings / System / Clipboard / Clipboard History / "Enable"
Option 2 - click "TastaWindows + V"" Activate "
Using Clipboard History:
Copy (with copy or Ctrl + C) normal things like text, html, images, code of maximum 4 MB each and when you want to put on "paste" press the combinationWin + V key"
Related Tutorials:
Clipboard History Tutorial on Windows 10 - video tutorial